Countless possibilities
More than just a simple cash register.
Dashboard
Your personal dashboard is available on all mobile devices and can always be updated.
Inventory management
Our POS system tracks inventory levels and generates sales statistics. This way, you can keep an eye on your stock and financials.
E-Commerce API
The online shop API is the ideal extension for your stationary business. Open your business to the whole world and sell to anyone, anywhere, anytime.

EASY AND QUICK TO INSTALL
A great help for your kiosk.
our Kiosk POS system is easy to operate - no matter how tech-affine you are
no browsing through manuals, but intuitive to use
create profiles for each employee with different access rights
daily analysis of all sales processes of your kiosk at a glance
Make Appointment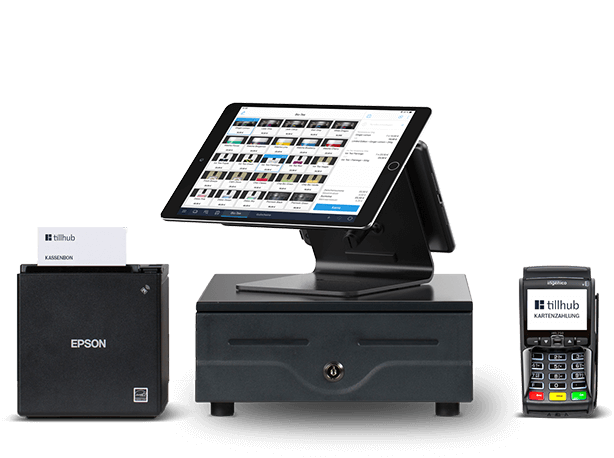 what distinguishes us
Why the Tillhub POS system for kiosk will take over your work.
Easy operation
Because the Tillhub POS system for kiosks is easy to use, employees without previous digital knowledge can easily start working with the system without having to learn a lot.
The right equipment at hand
To make the payment fast, you can extend your kiosk POS system with equipment such as handheld scanners. This will identify your product quickly and leave more time for a more enjoyable shopping experience.
Employee profiles
If you have several employees in your kiosk, you can create a personal profile for each of your employees and thus have an overview of all processes in your kiosk.
All data secure in the cloud
One thing is certain: With our kiosk POS system you have all your data safely in the cloud. Nothing is lost and you have access to your business numbers from everywhere.
Stocktaking made easy
Every entrepreneur can make better use of his/her time than stocktracking. With out kiosk POS system, stocks can be viewed at a glance and, thus,making the right purchasing decisions becomes a matter of seconds.
Real people help
At Tillhub, real people take care of your concerns. We have a team that is there just for your questions and always ready to help with your POS system.
Modern POS system: Kiosk with a professional look
You know this: Many of your customers come for a nice conversation. As a kiosk owner you know the neighborhood. It's all about the relationship with your customers, so you do not want to waste a lot of time with paperwork and billing processes at the Point-of-Sale. A high-quality POS system for kiosks will make your business appear modern and give you time for important conversations with your customers because you need to worry less about administrative processes. Our POS system can be used safely in any type of business.
Law-compliant POS system: keep your kiosk safe
As a kiosk owner, you want to take care of the important business issues: product selection, customers, and sales. Everybody wishes, that the legal conditions are 100% fulfilled and do not need to be worried about. That's exactly the case with our kiosk POS system. It works GDPdU / GoBD-law compliant and your data is stored on servers, all of which are in Germany. Should the tax auditor or the tax office pay a visit, then you can draw reports with one click. That will certainly make you sleep better at night.
All products at a glance with our POS system for kiosks
In your kiosk you certainly have many items that need to be managed. The great thing is: Our POS software for kiosks offers you the opportunity to create and categorize each item individually. In addition, you can tag items, create product categories, provide descriptions, assign prices, or upload images, so that each of your employees can directly identify which items they are. In addition, it can be tracked which items are reserved and your customers can easily pick them up later.
This POS system for kiosks accepts all payment methods
In a digitized world where everything is becoming increasingly automated, cash is increasingly becoming a chore that many of your customers want to escape. How nice that you can soon accept payments with a credit or debit card from your Tillhub POS system for kiosks. You do not have to send your regular customers to the ATM around the corner, but can accept payments directly. This will surely be one more reason for many of your customers to shop in your kiosk.
POS system with optional equipment expandable
You know exactly which accessories you need in the kiosk to make the sales process at the Point-of-Sale as pleasant and uncomplicated as possible. Our Tillhub POS system runs on every Apple iPad using iOS as an application. This gives you the ability to access your dashboard from anywhere and view your sales. In addition, you can expand it with a scanner, receipt printer, barcode scanner, card terminals or label printer to find the perfect combination for your kiosk.
Convince yourself of Tillhub - without obligation and free!
Request demo